Four Things To Make Your Search Easier
When you are looking for a high-quality DUI defense attorney – you are likely searching for someone that you consider to be an "expert" in his/her field. However, the ethical rules that all licensed attorneys must follow (called the rules of professional responsibility) restrict the use of phrases like "DUI specialist" or "DUI expert" in advertisements/websites/printed materials produced because such language could be misleading or improperly suggest to a potential client that a guaranteed outcome can be obtained for them.
So how do you find the best DUI attorney for your case? It's easy when you know what to look for and what to ask. Let's get started.
1. Make Sure To Get A Local DUI Attorney
Anyone can appear in a "DUI attorney" search on the internet. However, you will want to look carefully at the wording of such results to see if the attorney actually practices DU/DWI law in the jurisdiction where your case will be heard. For example, if you are arrested in Washington, D.C. – you will want to find an attorney who is not only licensed in DC, but who also practices DUI law on a daily basis in that jurisdiction. Daily practice of DUI defense in the jurisdiction where you were arrested will ensure that the attorney is familiar with the nuances of the law in that location and also with the judges and prosecutors likely to be involved in your particular case. Such an attorney will not only know DUI law but will be intimately familiar with the policies and practices where your case will be heard.
2. Make Sure To Get An Experienced DUI Lawyer
An experienced DUI lawyer will not only have recent DUI defense history in the courthouse but will also have a wide and varied background of litigation experience. For example, a seasoned DUI attorney will have lots of experience in handling every aspect that could occur in a criminal DUI case like yours; including experience in arraignments, motions practice, evidentiary hearings, negotiating diversions/other favorable dispositions, pre-trial hearings, handling discovery disputes, advocating in trials (both before a judge & before a jury), sentencing proceedings, and the sealing of arrest records, just to name a few.
3. Make Sure The Attorney Has No Allegations of Professional Misconduct
When you have your 'attorney consult' with the firm you are considering retaining, you could just ask "Have you ever been disciplined/admonished by the Bar" – Rude! Besides, maybe it would just be less awkward all around to find out about any disciplinary action on your own by simply doing some quick on-line research ahead of time. All you have to do is look up the attorney's name on the state bar association website. [Each state has its own bar association that issues licenses to practice law to attorneys that work in that jurisdiction. These bar associations monitor and discipline lawyers by disciplinary actions (i.e. admonishment, suspension, or even disbarment) when a code of ethics is violated. For example, in Washington, D.C., to research on-line whether an attorney has a history of professional misconduct, you would:
Go to dcbar.org
Look for the "Attorney Discipline" tab
Select "For The Public"
Select "Find A Member"
Type in the name of the attorney for which you are seeking information
OR
Go to dcbar.org
Enter the name of the attorney in the "Site Search" section of the main page to find links to any disciplinary action
Of course, a disciplinary action alone may not be reason enough to disqualify the attorney for further consideration – you may also want to explore (a) the nature of the complaint and (b) what the result was before making a final decision.
4. Make Sure The Attorney Is A Good Match For You
When you have your consultation with the attorney, assuming that you are already comfortable with his/her background and experience, you'll also want to gauge how comfortable you are with the actual interaction that you have with that attorney. Are they easy to understand? Do they listen to and respond to your questions? Are they demeaning/dismissive or rushed when speaking with you? All of these factors play an important role in your determining who you are most comfortable with going forward. Of course, quality DUI attorneys usually have very busy calendars because they are likely handling dozens of open cases at any given time. However, the questions is – if you select this particular DUI lawyer, will you feel like a valued client or just another cog in the wheel. Of course, the best resource for finding out how you can expect to be treated by the DUI attorney/firm you are considering is the reviews given by former clients. Such reviews are invaluable; and can be found in many places like: Google.com, AVVO.com, Expertise.com, Justia.com, best-dwi-attorneys.net, and even on the law firm's own website in most cases.
The takeaway here is simply to hire the best DUI attorney for your case, you should get as much information as you can about the attorney/firm through your own internet research and through the initial attorney consultation. The combined source of information gathered in this way, will help you to move forward confidently with the DUI attorney you ultimately retain and will also get you closer to a successful resolution of this unfortunate chapter of your life.
That's knowledge you can use.
DUI Defense Team at the Law Offices of Maddox Levine PLLC
Have you or a loved one been charged with a DUI/Impaired Driving in Washington, D.C.? If so, it's time to contact a trusted DUI/DWI defense attorney at the Law Offices of Maddox Levine, PLLC.
Trust. Knowledge. Experience. It all matters – so contact a lawyer who knows, by calling us today at (202) 441-8810.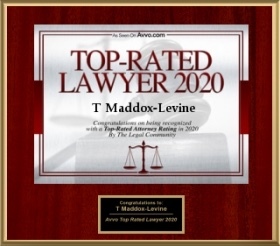 2020 DUI Award